Bitfinex Chart
The Bitfinex Chart includes the following content: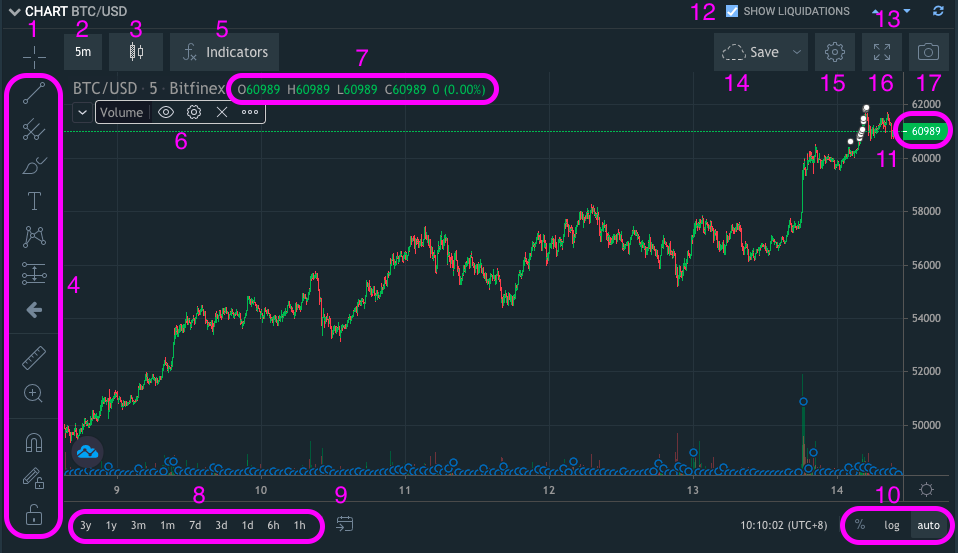 Cursor style options
Candle interval selection; e.g., 1h means each red/green candle represents 1 hour
Update Candle's performance e.g. Bars, Hollow Candles or Lines etc.
Quick access chart tools; each one is customizable by selecting its slideout arrow
Opens a large database of additional chart indicators
Individual indicator properties; e.g., "Volume" bars indicator
Open (O), High (H), Low (L), and Close (C) price for selected candle
Chart window total timeframe
View chart of a particular date and time
Change price axis to a percentage, logarithmic view, and manual/auto-scaling, setting (see №15)
Current market price*
Show/Hide liquidation feed
Decrease or Increase size height of the chart window, refresh the chart
Load previously saved charts, indicators, drawings, and etc.
Chart properties allowing colour changes, scale parameters, and etc.
Expand the chart to fill the screen
Screenshot the current chart window and creates a link to save or share the image
*Active positions, orders, and price alerts will also appear in a similar fashion (different colors) as the current market price line.
Layout Customisation
The Bitfinex trading page layout can be customized by finding the "Layout" icon on the top navigation bar:

After clicking "Customise Layout", you will enter editing mode and be able to adjust the size and position of all the widget cells available, while selecting "Disable Custom Layout" will take you out of the customization editing mode.
Any of the widgets can also be deleted and can be restored by selecting and adding them from the "Layout Options" menu:

You can select on the "Reset" to return the size and position of all the widgets to back to their default values.
Once all edits have been made, you will need to press "Save" for the edits to be confirmed and available for your trading page:

Note that layout customisation supports widescreen sizes.
Depth Chart
The Depth Chart is market depth visualised and labeled so you can see total order quantity, price and slippage at every level of the order book. Use the depth chart to easily:
assess market supply and demand at a glance
calculate potential trade costs on the fly
identify significant support and resistance levels

The X-axis shows the prices while the Y-axis shows the total amount of orders. The green lines indicate bids orders and the red lines indicate ask orders.
To add the Depth Chart to your Bitfinex trading page, find it via the "Customise Layout" option mentioned above and add it to your trading page as a widget:

Tips:
Hover the main chart area to see quantity, price and slippage at different points in the order book.
Click + / - or scroll the chart area to zoom in and out of the order book and see slippage and significant support and resistance levels at different market depths.
Use the "Customise Layout" option to adjust the component to your preferred dimensions.