What is Shyft (SHFT)
Shyft (SHFT) is the native token of the Shyft Network.
The Shyft Network is a public protocol designed to validate identity and power compliance directly into blockchain data.
SHFT is an identity and data transmission currency, as well as a governance mechanism for ecosystem coordination that enables entity-to-entity governance, compliant asset creation, and a system for compliant DeFi and other applications.

Notes:
As of 4th April 2022, Bitfinex supports SHFT on both Ethereum network (ERC-20) and Mainnet that can be converted via the Currency Conversion tool (see below).
The API symbol for Mainnet based Shyft is SHFTM, while Ethereum based is SHFT.
Conversion
SHFT can be easily converted to SHFTM on your Wallets page using the Currency Conversion tool.
Note: Starting from 7th April 2022, trading will be available for SHFT (ERC-20) tokens only, in order to use SHFTM (Mainnet) tokens on Bitfinex they need to be converted to SHFTe (ERC-20) tokens.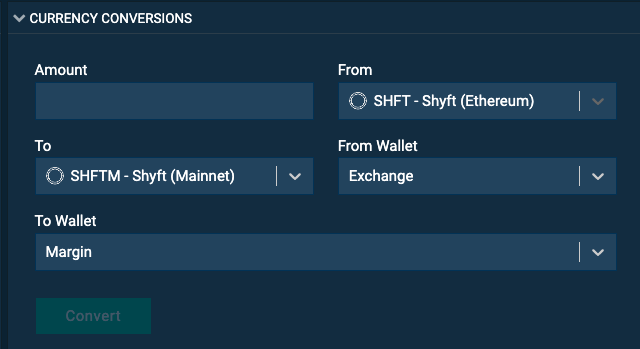 Useful links: