OPEN TO PERSONS 18 YEARS OF AGE OR OLDER ONLY—SEE ELIGIBILITY CRITERIA IN THE COMPETITION RULES on Bitfinex.com
VOID WHERE PROHIBITED BY LAW
This Competition Description is meant to be read in conjunction with the General Rules for Competitions on Bitfinex.com.
1. Name of the Competition: "Polygon Telegram Takeover" (the "Competition").

2. Description of the Competition:
The Polygon Telegram competition will take place on the Official Bitfinex Telegram account (https://t.me/bitfinex); you can always identify the official account with the blue tick icon as shown below.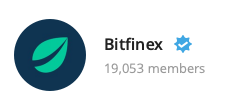 Please note: Bitfinex or any of the official Bitfinex team, will never contact you on Telegram to ask for personal account information or share any files with you.
The Polygon Telegram competition will take place on Monday 16th May at 15:00 UTC. Participants are advised to join before this time to ensure they don't miss out. During the event, representatives from both Bitfinex and Polygon will be discussing the Polygon project, and this is where the answers to the Polygon Telegram Takeover will be shared. For those unable to attend, there will also be a blog post shared that will also give details to the answers should you be unable to join. However, during the event, there will be a bonus question that is not available on the blog, so pay attention to getting a bonus reward should you be eligible and successful in winning the competition.
Once the competition is over, a form will be shared and pinned on the Telegram channel. Here, you must go in and answer the questions and submit your answers. This is a race against time, and the first 800 successful answers will win a share of the prize pot, and for the bonus question, the first 50 successful answers will win the bonus prize.
Please note during this time, the Telegram channels chat feature will be turned off to members of the group, so only the Polygon team and Bitfinex can communicate during this time. Should you need support, you can visit cs.bitfinex.com.
To join the 'Polygon Telegram Takeover' competition, you'll need to have a verified Bitfinex account to at least an Basic Plus level. You will also need to ensure you have a MATIC (ERC-20) wallet address set up on your account so that the competition prize, should you win, can be transferred to your account.
3. Competition Period: 16th May, 2022 at 15:00: UTC - 23rd May, 2022 at 00:00 AM UTC (eight days).

4. Competition Prizes:
Polygon Telegram Takeover rewards
The first two-hundred eligible users to answer all the questions correctly will win Prize A, the following six hundred eligible users to answer all the questions correctly will win Prize B and the first fifty eligible users to answer the bonus question will win Prize C. All prizes will be paid out in MATIC tokens (ERC-20):
Prize A - 10 MATIC tokens each (2,000 MATIC Pot between 200 winners)
Prize B - 5 MATIC tokens each (3,000 MATIC Pot between 600 winners)
Prize C - 20 MATIC tokens each (1,000 MATIC Pot between 50 winners)
Distribution: Winners will receive reward tokens in their Exchange wallets. The reward tokens will be distributed to winners on or promptly after 24th May, 2022.

5. Eligibility: This Competition is open to all eligible users who have completed at least the Basic Plus verification process on their account by 11:59:59 PM UTC on 17th May 2022. One prize per person.
The General Rules for Competition and the Competition Description will govern in the case of any discrepancy with this post. This Competition is only available to users who are at least 18 years of age and are not a Prohibited Person or a U.S person, both as defined in the Bitfinex Terms of Service.
6. Prohibited Use: Entries from users owned or controlled by the same person is not permitted.