The Planet token (PLANETS) is an ASA token that enables all transactions in the PlanetWatch ecosystem.
Planets are earned when a sensor sends valid air quality data to PlanetWatch.
Note: Bitfinex supports mainnet based Planet.
Important: PLANETS withdrawals
Please make sure the destination address is enabled to receive PLANETS transactions. If the address does not have PLANETS enabled, the withdrawals to that address will fail.
To check if the destination address has PLANETS enabled, you can go to the explorer and check the Balances section. If in the balances list you see PLANETS, it means that PLANETS is enabled.
Example of a PLANETS enabled address: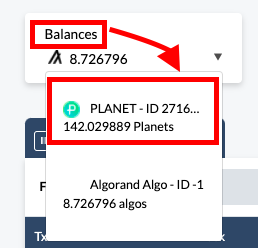 Resources