Derivatives trading is open to verified users (intermediate level or higher) in eligible jurisdictions. In order to trade derivatives, you should hold Tether tokens USDt in your derivatives wallet, which will be called "USDt".
For information on how to move your funds, please view: How do I move funds to my Derivatives wallet?
To open a short position:
Go to the Derivatives page > Select the desired pair > e.g. BTC-PERP
Set up a Derivative Sell order in the Order Form: (specify the amount, order type & price):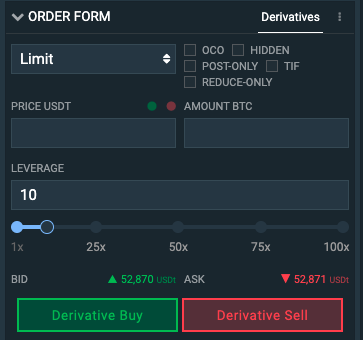 Select your order type, and choose the leverage you would like to trade with by moving the slider or by typing a number in the leverage box. The maximum leverage for derivatives trading is up to 100x, depending on the derivative pair. The leverage will determine the amount of allocated collateral.
To place your order click "Derivative Sell".
When you want to close the position, either use the close button (a Market Derivative Buy order will close the short) or place a Derivative Buy order of the same amount of BTC as your short.
To open a leveraged long position, take the same preparatory steps for your order as above and click "Derivative Buy". To close your position you may also use the close button (a market derivative sell order will close your long) or place a derivative sell order of the same amount of BTC as your long.
Collateral
The USDt collateral allocated to that position needs to be at least 1% of the USDt notional value of the position you wish to open.
If you have 100 USDt in your derivative wallet, those 100 USDt can serve as collateral for opening positions up to 100:1. i.e. Margin positions with a USDt value up to 10,000 USDt.
Unlike our asset margin trading platform, our derivatives platform uses isolated margining, which means that you can allocate a specific amount of collateral to a position, instead of all of the funds in the wallet being used to cover all active positions in the account.
Losses resulting from manually executed orders can still be greater than the allocated collateral as a result of slippage.
Example:
Say you have 1000 USDt and you want to open two positions. The price of BTC is $8000.
You can open positions with a total value up to 100,000 USDt (1000 x100).
The first position you open is a long 1.25 BTC/USDt worth 10,000 USDt, and you choose 20x leverage for that position. This allocates 500 USDt as collateral
You now have 500 USDt available in your derivatives wallet.
The price of ETH is $400. You decide to open another long for 40 ETH/USDt worth 16,000 USDt, using 80x leverage. This allocates 200 USDt as collateral, leaving 300 USDt available in your derivatives wallet.
More information: