Ethereum 2.0 (ETH2) is an upgrade to the Ethereum network that aims to improve security and scalability. This upgrade involves Ethereum shifting the current mining model to a staking model. To learn more about staking, please view our Staking Rewards guide.
Staking of ETH 2.0 is done in batches of 32 ETH, allowing a person to become a full validator and to receive the staking rewards. Please visit the official Ethereum website for more information.
On Bitfinex, we help you make the most of staking through an easy-to-use interface, simplifying the staking mechanism and removing the technical hurdles associated with setting up and running a validator node. Also, this allows you to stake less than the required 32 ETH, giving you the option to stake as little or as much as you prefer.
How to start staking ETH at Bitfinex
What is ETH2Pending
As you may be staking less than 32 ETH, you will need to wait for the batch to be filled to the required amount. Therefore, during this waiting process, your ETH will need to be converted to ETH2Pending. This means that your ETH is pending and waiting to be grouped in a batch to begin staking.
Important: There are no staking rewards for this period. You will only start earning weekly staking rewards once the batch is filled and you hold ETH 2.0 on your account.
How to convert ETH to ETH2Pending:
1. Firstly, find the Currency Conversion tool on your Wallets page.
2. Enter the amount of ETH you would like to stake in the Amount field.
3. In the From field, select ETH-Ethereum. In the To field, select ETH2Pending-ETH2P.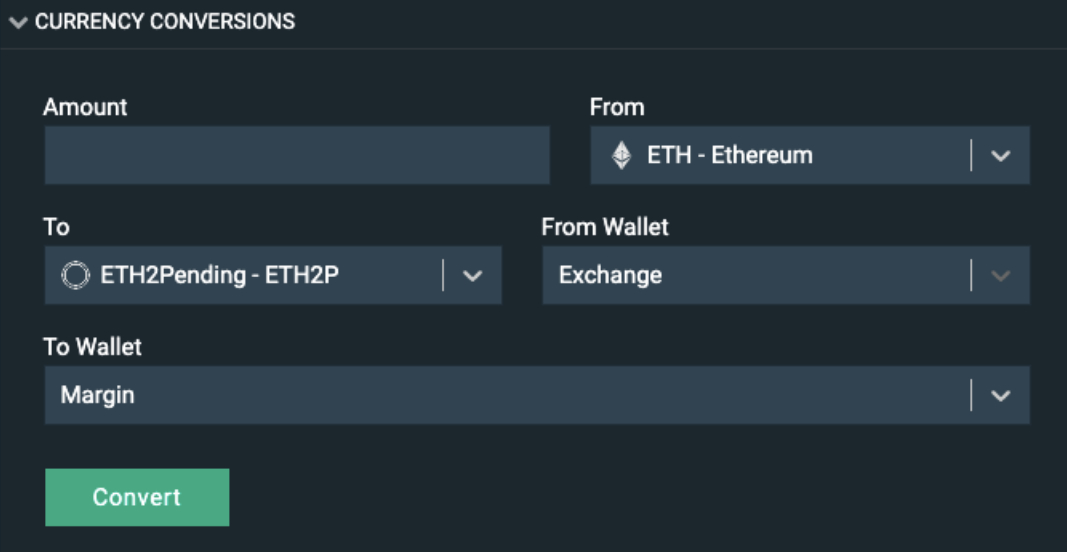 4. Select where your ETH is with the From Wallet field.
Select where you would like to send your converted funds with the To Wallet field.
Note: You do not need to keep your ETH 2.0 funds in a specific wallet to get staking rewards.
5. Finalise the process by clicking Convert.
From ETH2Pending to ETH2:
The ETH2Pending (ETH2P) tokens created will now be automatically used for staking.
Once the staking batch has been completed, the ETH2Pending balance will be converted into an ETH2 balance.
Note: Staking rewards on staked ETH will be reflected as ETH2 Rewards.
Important: It is not possible to convert ETH2Pending/ETH2 back to ETH. The process is final and irreversible!
Ethereum 2.0 Staking — Frequently Asked Questions (FAQ)
— What is the minimum amount for staking ETH 2.0?
There is no minimum requirement on the amount of ETH held in order for a user to participate in staking on Bitfinex. While ETH is staked in batches of 32 ETH on a first-come, first-served basis, users can input any amount they would like to stake.
— Can I trade ETH 2.0?
Yes, ETH 2.0 is available for trading on Bitfinex. You can find the trading pair by entering ETH2 in your Tickers box.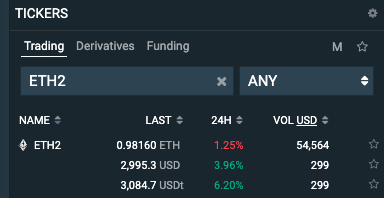 Important: Bitfinex makes no guarantee that it will always continue to permit trading of ETH2. Bitfinex may remove the ability to trade ETH2 at any time, on any or no notice and for some or all users.
— Can I withdraw ETH 2.0?
No, neither ETH 2.0 nor ETH 2.0 rewards balances can be withdrawn from Bitfinex.
— Is it risky to stake ETH 2.0?
ETH 2.0 staking is highly experimental and risky. Please ensure you independently assess, understand and accept the related risks before deciding to stake.
— Who is not eligible for ETH 2.0 staking?
ETH 2.0 staking is not available to any citizen or resident of Canada or any entity organised in Canada or controlled by citizens or residents of Canada. ETH 2.0 staking is also not available to any Prohibited Person, such as a citizen or resident of the United States of America.
For details, please view our Terms of Service.
Important:
The ETH 2.0 staking service is available to our users, pursuant to our Terms of Service and additional terms that users will be presented at the time they choose to stake.
If you cease to maintain your account with Bitfinex for any reason, including termination by Bitfinex, while you hold a balance of ETH2 or ETH2 Rewards, you will forfeit any rights you may have pursuant to the Terms of Service to the ETH that the ETH2 or ETH2 Rewards represents.
If you have any questions, please feel free to reach out to us at Bitfinex Support. We are happy to help!