What is the Flash Return Rate (FRR)
The Flash Return Rate (FRR) is a special rate used to calculate interest in the Bitfinex P2P lending platform.
This rate is not based on an agreed fixed rate. Instead, it is based on the average of all active fixed-rate fundings weighted by their amount. This rate updates once per hour, allowing you to get rates that follow market action.
Using the BTC/USD trading pair as an example:
When the market price of BTC goes up, the funding return rates for USD also tend to go up as more traders are willing to trade USD for BTC.
Similarly, if the BTC market price goes down, the funding return rates for BTC tend to go down.
Therefore, using the Flash Return Rate, you can provide funding, knowing that you will not miss opportunities if the market return rate goes up.
How to set up the FRR
You can set up FRR as your funding rate when creating a funding order. Simply click on FRR in the Funding Form, and the FRR rate will be automatically added.
More information on how to create a funding order can be found here.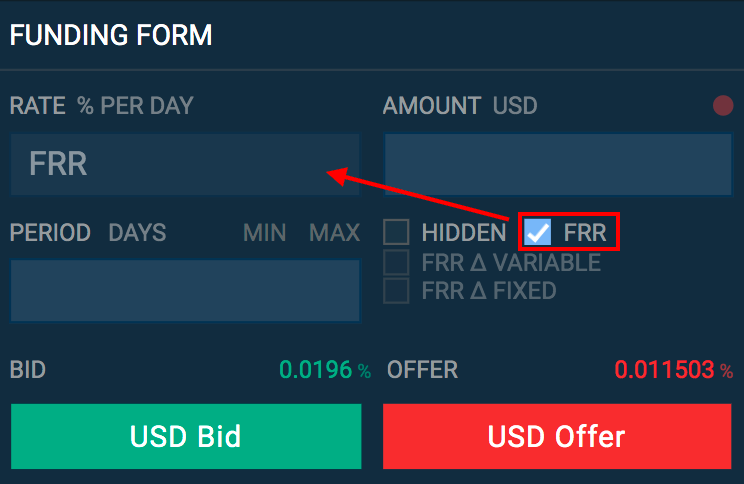 You can also use the FRR when auto-renewing funding orders. This can be found on the Auto-Renew widget and by clicking on FRR to automatically input the rate.

Note: The FRR is displayed on the Market statistics page under Rates on Margin Funding.
If you have any inquiries, please do not hesitate to contact Bitfinex Support. We are happy to help!