Bitrefill provides products and services that allow anyone to live on cryptocurrency more easily. Bitrefill.com provides a catalogue of gift cards, prepaid mobile refills, and Lightning networking services that can be purchased using Bitcoin and other cryptocurrencies worldwide.
The integration of Bitrefill's shopping service on the Bitfinex trading platform means that Bitfinex users are now able to use their exchange wallet funds to perform an instant payment to Bitrefill. The payments will be sent from our Lightning Network node to Bitrefill, always settling customer orders over the Lightning Network making each transaction instant.
How it works
By selecting the "handshake" button on the top bar, and choosing"Bitrefill" you have the option to be redirected to the shopping page or you can go directly to https://trading.bitfinex.com/bitrefill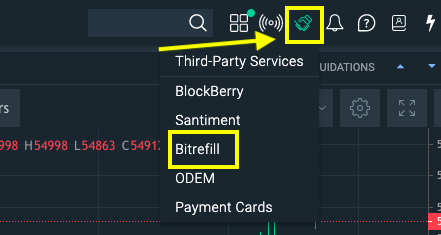 To make a purchase please follow the steps below.
From the drop-down, choose between gift cards and/or phone refills.
Your selected items will then be put into a shopping cart.
Gift option: if you wish to purchase an item as a gift, you will be prompted to fill in the recipient's details; you will have the option to choose between an instant or a scheduled delivery, and finally select a themed design for the gift.
You can choose to either continue to shop or finalise the purchase by clicking on Checkout.
Click pay and you will have finalised your shopping process by accepting the pop-up message.
Please ensure you have enough funds in your exchange wallet.
If your exchange wallet does not have enough funds you will be directed to top-up options.
At this time, although you can select different currencies for the items you wish to purchase, only Bitcoin (or Satoshi - SAT) is supported on any purchase, while the possibility of other cryptocurrencies will be available soon.
Please also note if you would like to receive emails regarding your Bitrefill purchases on a different email than the one you have registered to Bitfinex, you can make the change on the order details summary before you finalise your payment.
Spend limits
A user's verification can determine the daily spending limit on Bitrefill.
KYC Verified (intermediate level or higher) Users: 5,000 USD worth in BTC
Basic and Basic Plus Verified Users: 1,000 USD worth of BTC.
Please learn more about verification levels here.
Do you want to learn more about Bitrefill? Visit https://www.bitrefill.com/faq/
Contact
For inquiries regarding Bitrefill products and services, please contact support@bitrefill.com
For Bitfinex related inquiries regarding your exchange wallet and balances please contact our customer support for further questions.