Paper Trading is a market simulator where users can develop their trading strategies.
On Bitfinex, newly created sub-accounts can be set to Paper Trade. The account will only see the following test tokens: TESTBTC, TESTUSDT, TESTUSD, TESTAAA and TESTBBB. These tokens do not represent any value and can only be traded in this mock environment.
Through Paper Trading you can learn and strategise on exchange, margin and derivatives trading. Other features of Paper Trading include margin funding which lets you offer and reserve test funding, Bitfinex Borrow which allows you to test borrowing funds from other users by using your test cryptocurrency or test fiat assets as collateral as well as exercise the Increase Position. In addition, Paper Trading also has available Bitfinex OTC trading desk to experiment with large orders without having to go through the public order books.
Creating a Paper Trading account is easy

After you sign in to your Bitfinex account, navigate to the sub-account section.
While creating a new sub-account, mark the "Paper Trading account" checkbox, displayed at the end of the form, as seen below: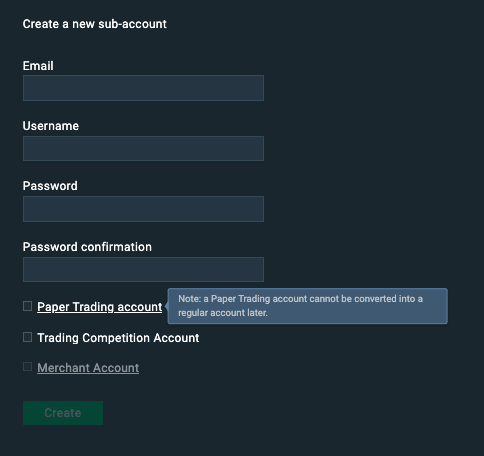 Once a sub-account has been created and enabled for paper Trading, it cannot be later converted to a regular account.


Creating a Paper Trading account on Honey Framework

Honey Framework enables Bitfinex users to create custom order types or event-driven automated trading strategies in your paper trading sub-accounts. The Honey Framework enables users to backtest market data to better inform algorithmic trading strategies.
To create a Paper Trading account for Honey Framework
1. Create an API key in your paper trading sub-accounts
2. Download and open the Honey Framework application
3. While logging in, select "paper" in the dropdown menu and add the API keys created in the Settings page, to complete the setup.
This would permit you to test Honey Framework trading strategies in a simulated environment.


Topping up your Paper Trade account is a click away
On the Paper Trading account, navigate to the trading page where you will have the balances widget. As seen below: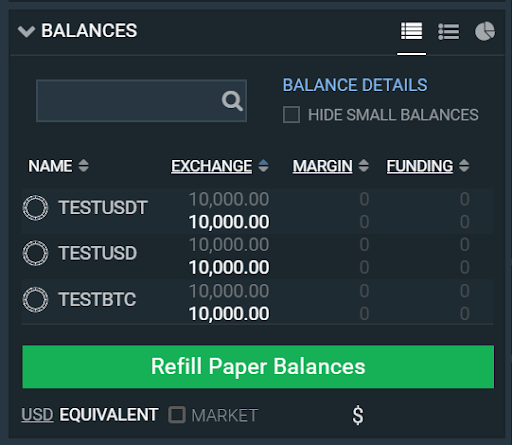 On the widget, select the Refill Paper Balances which will redirect you to the refill form, as seen on the image below: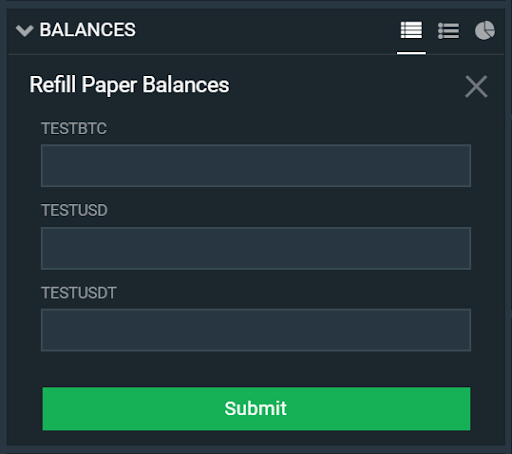 You can then refill your paper balances, conceding that the total balance per sub-account is refilled only to up to $1,000,000 USD equivalent at maximum and up to $100,000 USD equivalent per paper currency.

If you have any questions, contact our helpful Customer Support team: https://cs.bitfinex.com/ or join our Telegram channel https://t.me/bitfinex