Digital assets withdrawals towards another Bitfinex user's address are free of charge and faster than on-chain transactions.
To make an internal transfer from one Bitfinex account to another, the user sending funds must need to know the receiver's Bitfinex deposit address. For tokens requiring a tag or a memo, please provide the receiver's deposit tag/memo to ensure that the transaction can be allocated properly.
The following example shows you how to make an internal transfer within Bitfinex.
1. Firstly navigate to the "Withdraw" section on the top panel dropdown:
2. You will find the tokens available for withdrawal on your withdrawals page. Note that some tokens may be grayed out, this is because your account does not hold these tokens and therefore they are not available for withdrawal.
In this example, we will withdraw BTC: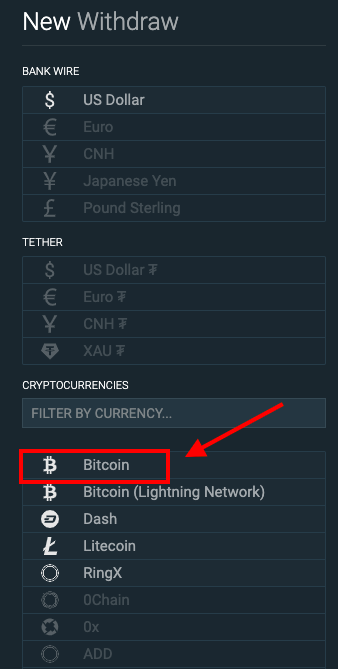 3. You will be taken to the withdrawal page for the relevant token. Here you will need to enter the address of the Bitfinex account you are transferring funds to. The transaction is only free when the recipient address belongs to Bitfinex as well and the system will automatically detect if it belongs to Bitfinex by the fee change.
Once you have entered the correct Bitfinex address, you will find that the "Tx Fee" is 0, meaning that this is an internal transaction and fees are not required.
However please note that the minimum withdrawal amount is $5 USD equivalent, this is necessary to avoid dust amounts from being processed.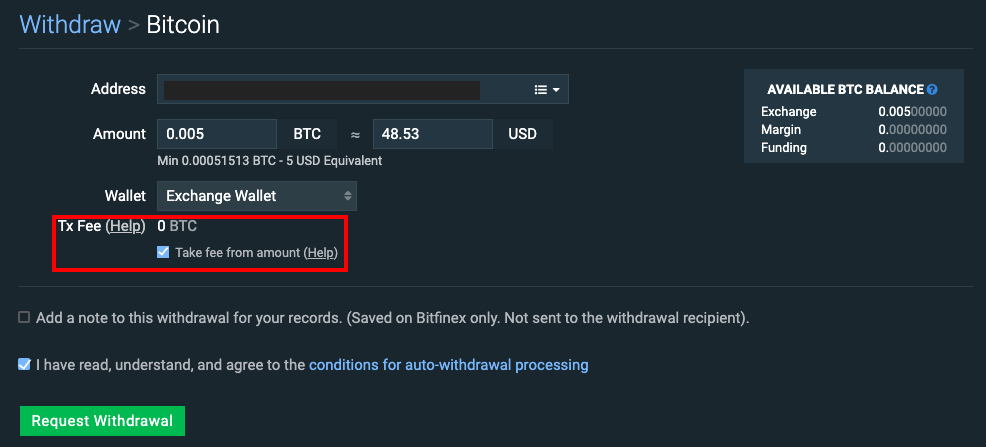 Below you will see that if it is not a Bitfinex address, the relevant fee will apply. For details on fees charged for external transactions, please view our fees page.
Also, if your address is entered incorrectly, the error message "Invalid Address" will appear below the "Address" field.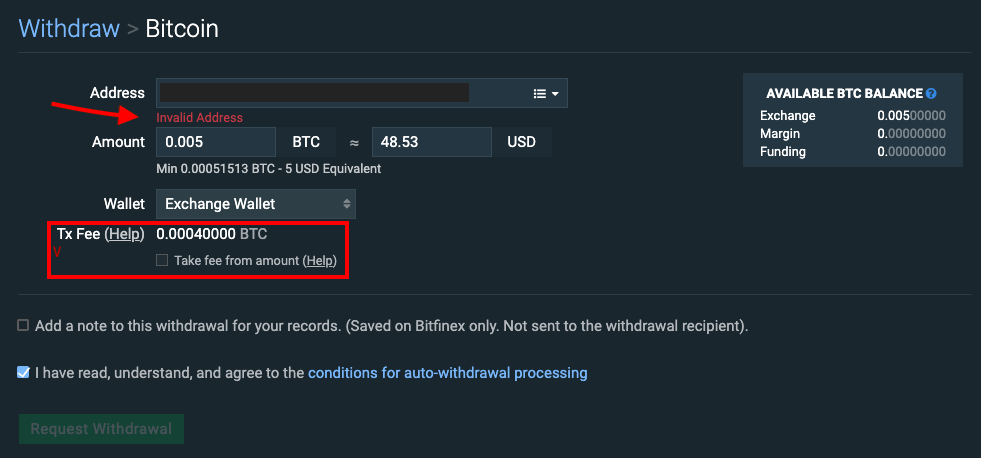 4. Once you have confirmed all the information and clicked "Request Withdrawal", you will go through security confirmation steps. This includes two-factor authentication, via 2FA code or U2F.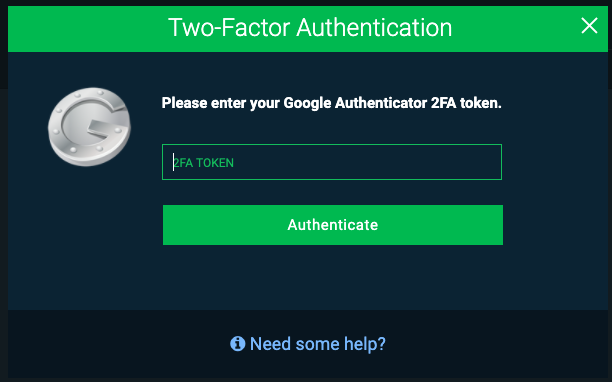 5. Next, you will be sent an email to confirm the withdrawal. Please be sure to check your spam folder in case the confirmation email has been accidentally filtered, you can also click on the "Re-send email" button on the withdrawal page to have the confirmation email sent again.
Your withdrawal will show a "User Emailed" status indicating that the withdrawal is waiting for final confirmation. If you do not confirm, the withdrawal will be automatically canceled after 12 hours.
Note: For automatic withdrawals that do not require email confirmation, you can consider getting your account greenlaned. We encourage all users to review our Greenlane Conditions which significantly increase personal security, reduce the required number of confirmations for cryptocurrency deposits, and prioritize withdrawals through automatic processing.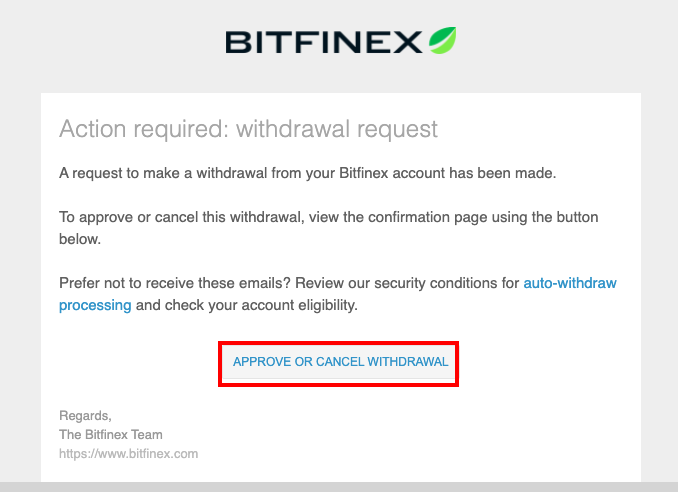 6. Once you click on the email link, you will be taken back to the Bitfinex withdrawal page for final confirmation. Please double-check the withdrawal token, amount and address before clicking the green "Approve" button.
If you did not submit the withdrawal request and think your account might be hacked, please "Cancel" the withdrawal, freeze your account and contact Customer Support immediately.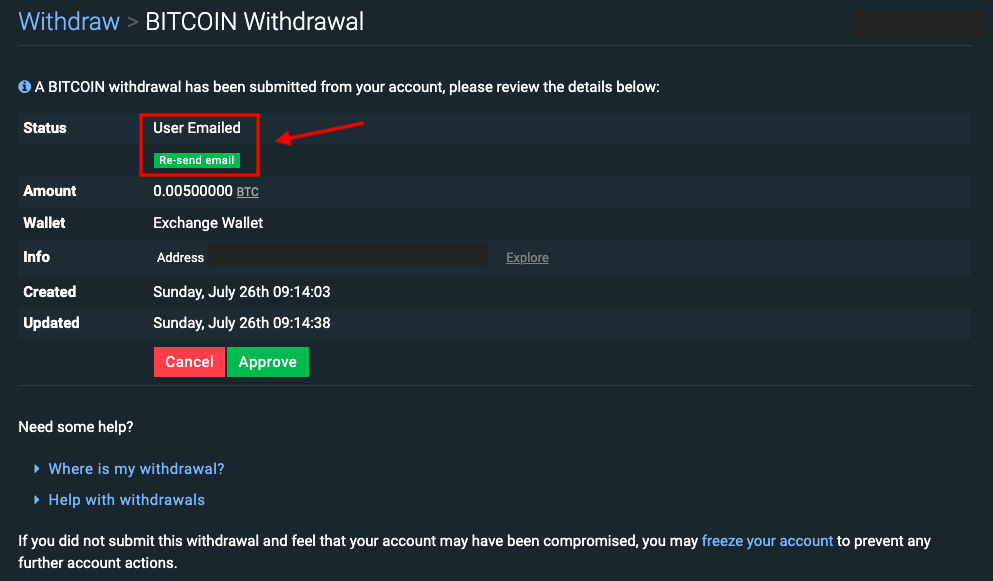 7. The withdrawal will now be processed, and you will see it marked "Completed" on your withdrawal page when the transaction is successfully processed. As this is an internal transaction within Bitfinex, no TX ID will be provided. You can also further check details on your Reports > Movements page. Here you will find that the "Fees" are "0", confirming that no extra fees were taken for this internal transfer:

8. Finally, the Bitfinex user receiving your transaction will now also see this information on their deposit page. As this is an internal transfer within Bitfinex, there will be no TX ID.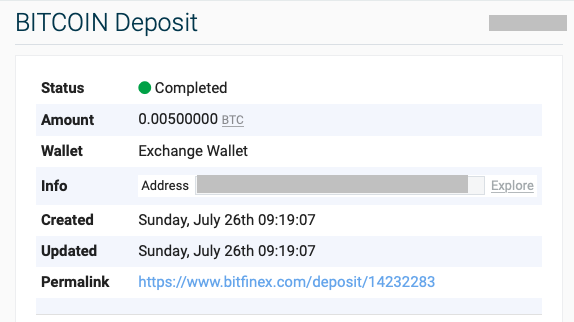 If you have any inquiries, please contact Support. Be sure to include relevant information such as the Deposit/Withdrawal ID, token, amount and TX ID (if there is one).