Your Bitfinex account supports different wallets, one for each of its core features:
Exchange Trading;
Margin Trading & Margin Funding;
Derivatives Trading.
If you want to know more about wallets at Bitfinex, please check the Why are there different wallets at Bitfinex article.

Note: Moving funds between your Bitfinex account wallets is completely free and takes only a few seconds.

Important: If you want to send funds to an external wallet, please visit How to withdraw crypto from Bitfinex.
How to transfer funds from my Bitfinex wallets
How to transfer funds from the Wallets page
1. Firstly, go to the Quick Transfer widget on the left side of the Wallets page.
2. Then, type in the amount you would like to transfer in the Amount box.
Note: You can view your balances across all assets at the bottom of the Wallets page. By clicking on the Available Balance, the Amount box on the widget will automatically update with the available balance.

3. Now, select from the Currency tab on the drop-down menu.
4. In the fourth box, choose from which wallet to which you would like to send to and press the green Transfer button.
How to transfer funds on the Trading page
1. Firstly, tap on the currency you wish to send and then click Transfer on the Balances box.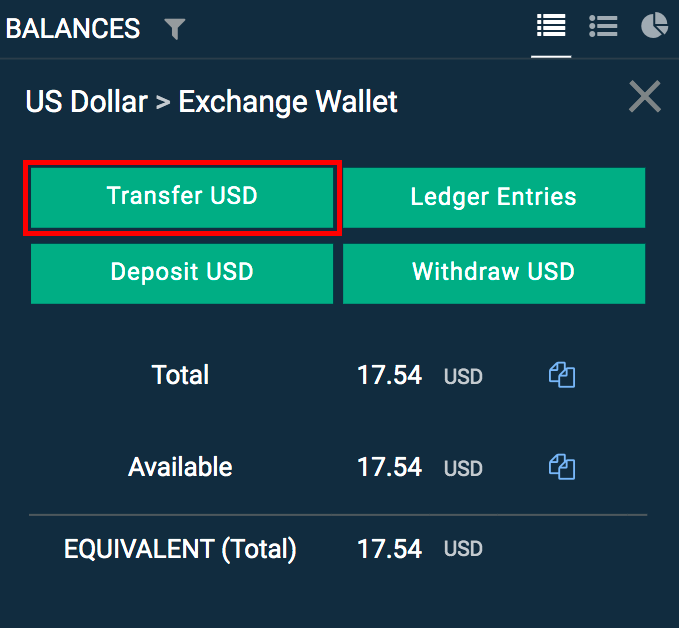 2. Next, you will see the option to click on the Wallet you wish to transfer funds out of and the relevant wallets you can transfer the funds to.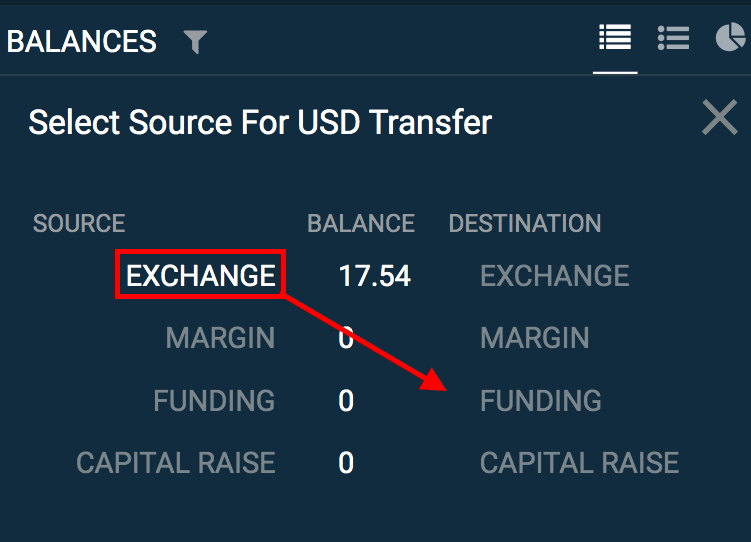 3. Lastly, a pop-up window will appear so you can check your request and finalise the transfer by clicking Transfer.
Note: Tokens not supported on Margin Trading or Margin Funding will not move to those wallets.
What is the difference between total and available balances
Total balance refers to your total balance of the currency.

Available balance depends upon your active orders, open margin positions, active funding offers/bids and taken and provided funding.

Note: To increase the available balance, you can modify/cancel active orders or reduce/close your margin positions.

If you have any questions regarding transfers between wallets, please contact Bitfinex Support.