A withdrawal from Bitfinex refers to moving your funds out of your Bitfinex wallets to a third-party wallet, platform, bank, etc. which can hold your funds.
The withdrawal process and processing time depend on the type of funds you are moving and the confirmations that are required. Some cryptocurrencies can be withdrawn to different blockchains, so be sure to check your withdrawal information carefully before proceeding.
Note: Your verification level will determine the currencies that are available for you to withdraw. For information on making a fiat withdrawal, please view our guide How to make a Bank Wire Withdrawal at Bitfinex.
How to make a withdrawal
1. Firstly, log in to your Bitfinex account and go to Wallet >Withdrawals.
2. Select Cryptocurrency.
3. Choose the token you wish to withdraw from the dropdown menu and select Continue.
Note: You will only see the tokens that you currently hold as available balance on your account.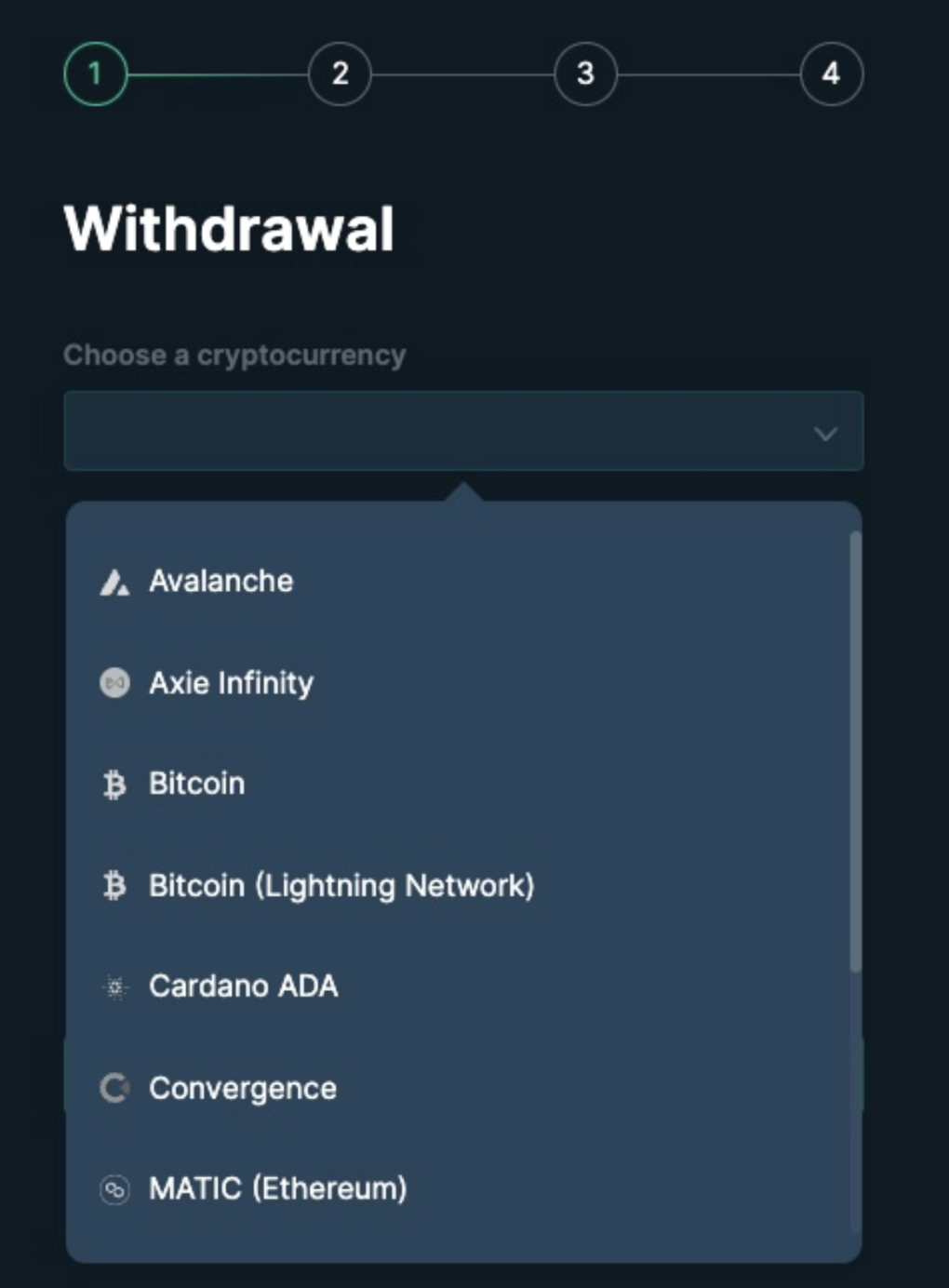 4. Once you have selected the token you wish to withdraw, you will need to enter information specific to your withdrawal:
Wallet: The wallet you wish to withdraw your funds from.
Amount: The amount you wish to withdraw from Bitfinex, the USD equivalent will be automatically calculated. You can also enter the USD value you wish to withdraw, and the corresponding token amount will be automatically calculated.
Address: The address you will be depositing your funds to when you withdraw from Bitfinex.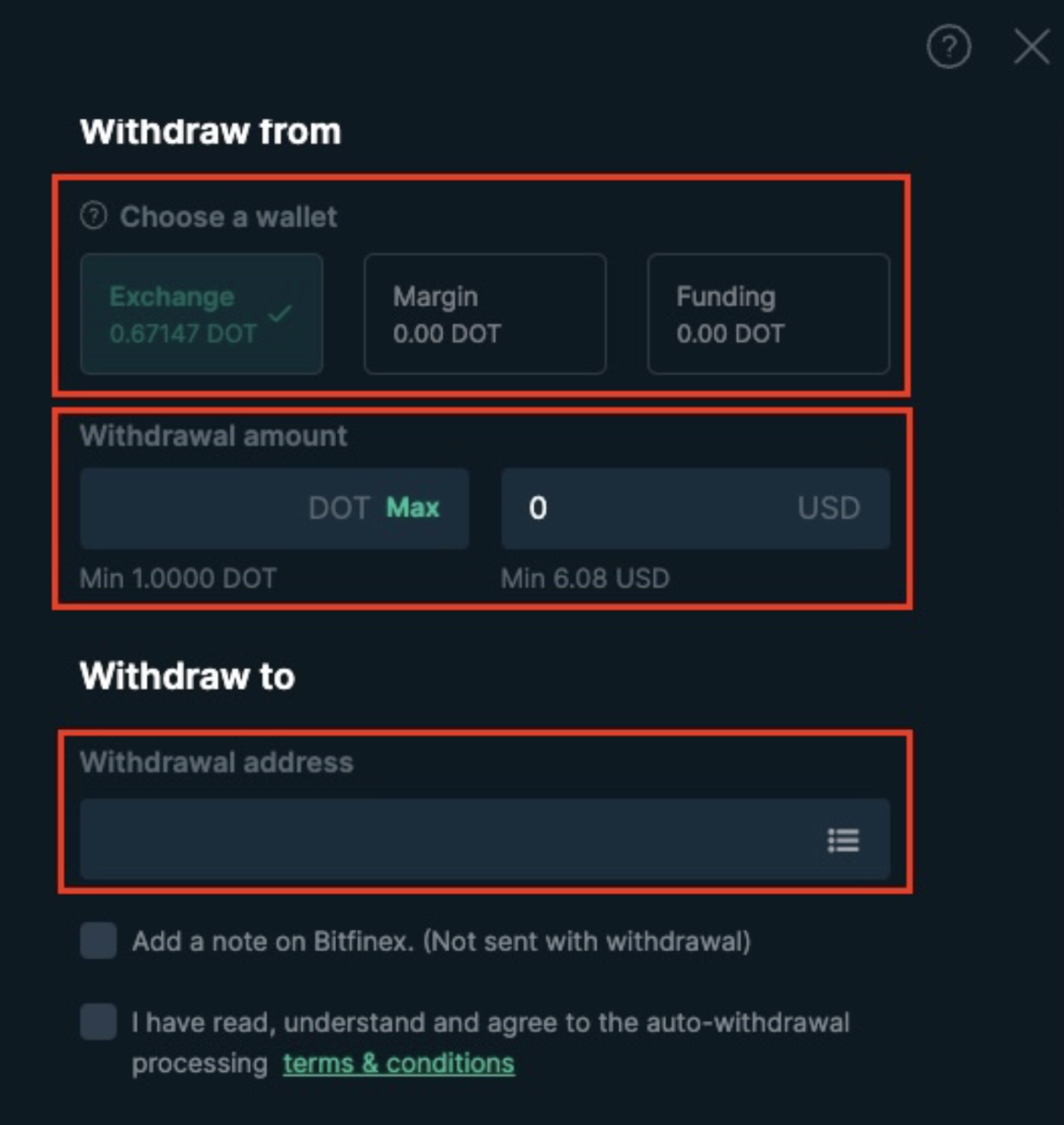 4. Now you will find two checkboxes below:
The first checkbox allows you the optional choice to add a note to the withdrawal for your records. The note will be saved on Bitfinex only and won't be sent to the withdrawal recipient.
The second checkbox refers to a process called Greenlaning. If your Bitfinex account is Greenlaned, your withdrawals will be subject to auto-withdrawals after meeting certain security requirements.
5. Once all the information is filled in and selected, you can press Continue.
6. As a security measure, you will need to confirm your withdrawal request via 2FA and email confirmation.
Note: If your account has been Greenlaned, an email confirmation will not be necessary.
7. Congratulations! You have now successfully submitted a withdrawal request.
You can look to our guides What does the status of my withdrawal mean on Bitfinex and Where is my cryptocurrency deposit or withdrawal to better track your withdrawals if necessary.
What are the withdrawal fees at Bitfinex
The fees for withdrawing are the transaction fees (Tx Fee). When sending a cryptocurrency, a small transaction fee (TX Fee) must be attached to the transaction in order for the relevant mining network to prioritise and confirm the transaction. If the fee is too low, the transaction could remain unconfirmed indefinitely by the miners.
To avoid this, we utilise a dynamic fee algorithm to calculate the appropriate fee to attach to each transaction. This Tx Fee is usually sufficient for the transaction to be included in the next block. The Tx Fee is fixed and automatically updated on a periodic basis according to network activity and the associated cost to achieve reasonable transaction confirmation times.
Note: The Tx Fee for withdrawals depends on the currency you are withdrawing. For details, you can view the token Withdrawal page directly or go to our Fees page for a complete overview.
What is a tag/memo/payment ID
Some currencies require not only an address but also other relevant information to track the transaction. Be sure to check with the receiving party if any other information is needed when making a transaction!
For example, with a Ripple withdrawal, sometimes a tag is required to associate a transaction with an account.
The same goes for Stellar Lumen and EOS based tokens that usually require a memo.
Notes:
If you are certainthat no tag is required for your withdrawal, you can check the No Tag option in the checkbox when making a withdrawal.
Failing to include the relevant information when making your transaction may cause significant delays in crediting the funds to your destination wallet, and in some cases, can be unrecoverable.
If you have any questions regarding making a withdrawal, please feel free to contact Bitfinex Support.