A Bank Wire Withdrawal is the process of transferring funds from your Bitfinex account to a bank account registered in your name.

Important: Bitfinex supports fiat currency withdrawal of US Dollar (USD), Euro (EUR), Great British Pound (GBP), Japanese Yen (JPY), Chinese Yuan (CNH) and Turkish Lira (TRY).
Important: If you intend to conduct your Euro wire transfer using the third-party service provider OpenPayd, please see the knowledgebase article for additional information.
How to make a fiat withdrawal from my Bitfinex account
1. To begin, make sure that your account is at the Full verified level. You will find your account information on your Verification page. If you have not completed the appropriate level of verification yet, you can begin or update your verification here.
Note: Deposits and withdrawals of Turkish Lira (TRY) requires Basic Level verification.
2. Now, go to the Wallet page and select Withdrawals from the left side of the menu bar.
3. Then select Bank transfer.

Note: The minimum withdrawal amount in fiat currency is 10,000 USD/EUR/GBP, 1,000,000 JPY, 75,000 CNH and 10,000 TRY.

For Euro/Pound Sterling transactions using OpenPayd services, the minimum withdrawal amount is €25/£25. A withdrawal of 10,000 EUR/GBP or less is charged with a fee of €5/£5 per wire. For withdrawals of more than 10,000 EUR/GBP, a fee of 0.1% the amount of your withdrawal is charged.
Important: If you do not have the funds available on your account, then the option to withdraw will not be available for selection.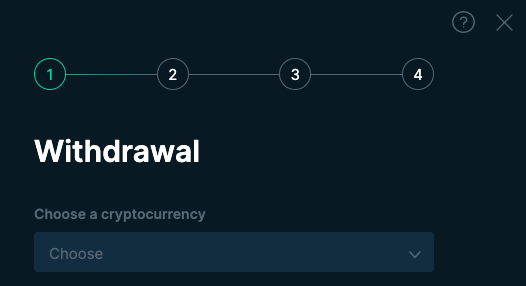 4. Then, fill in the basic details of the withdrawal you wish to make, including the Currency, the Wallet from which you are withdrawing fiat from and the Amount of the withdrawal.
Note: To expedite our processing, you can tick Express wire at the bottom for a Bitfinex bank wire withdrawal that is sent out within one business day. There is a 1% (min 60 USD/EUR) processing fee for this expedited wire. More information on fees can be found on the Fees page.
Important:Your bank account should match the one provided during the verification procedure. If it is the new bank account, please upload the recent bank statement to the Verification Page > Manage Documents in advance.
Additionally, you will be given the option of adding an intermediary bank during this phase. If your bank requires the wire to be received through an intermediary bank, please include the intermediary bank's information.
Note: For OpenPayd withdrawals, if your account is verified at an intermediate level and does not currently meet the Greenlane requirements, you will receive an email with a link to confirm your withdrawal. However, if your account is fully verified, you will not receive an email confirmation request regardless of your Greenlane status.
Important:
Incomplete information may result in delays or additional bank charges imposed by the processing bank.
If mistakes are made in the bank details provided by the customer, and if this results in the wire being returned, Bitfinex will reserve the right to charge a handling fee of $25 on top of the additional fees charged by the bank to resolve such errors. Bitfinex shall not be responsible in case of delays or errors caused by the customer. It is the responsibility of the customer to properly check all details in advance.
Please check beforehand whether your account can receive the transferred currency. If wires are returned because the account does not support the payment in your withdrawal currency, all additional charges are to be paid by the client. 
Bank Wire Withdrawal — Frequently Asked Questions (FAQ)

— When will the funds arrive in my bank account?
Fiat withdrawal processing timeframes vary according to whether you choose Express withdrawal or a Regular bank wire. 
A Regular bank wire withdrawal is sent out from Bitfinex within 5 - 10 business days and credited to your account following processing by the receiving party. This service has a processing fee of 0.1%.

An Express bank wire withdrawal is sent out from Bitfinex within 1 business day and incurs a 1% processing fee.
Important: The stated timeframe may be subject to delays due to the recipient institution's processing times. Bitfinex cannot guarantee that the receiving entity will process your withdrawal within a certain time frame because the receiving entity will have its own procedures and processing delays.

— Why are there delays in fiat withdrawals?
The completion of bank wires depends on our own internal risk processes, our payment processor, corresponding banks, and your personal bank. Delays, often out of Bitfinex's control, can occur at each stage of the transaction.  

Even though we cannot give an exact timeframe for when a wire withdrawal will be completed, the approximate time it takes to withdraw fiat currencies from our platform is 7 business days. However, it is not unusual for transactions to take up to 15 business days in order to comply with proper AML/KYC procedures.
— How do I add a new recipient?
To make it easier for you to access frequently used bank withdrawal information, you can choose to add the information as a new recipient.
Simply fill in the banking information as requested, save the information and the next time you request a withdrawal, the recipient information will be shown for you to select without having to input the information again. 
If you have any questions regarding your wire withdrawal, please contact Bitfinex Support for further assistance.