How do I make a fiat withdrawal?
Step 1: Verify Your Bitfinex Account
To begin, make sure that your account is fully verified. You will find your account information on your Verification page.
If you are not fully verified, you can learn more about verification here.
Step 2: Select Bank Wire Withdrawal
Next, go to the Withdrawals page and select the fiat currency you wish to withdraw under "BANK WIRE". Note that Bitfinex supports fiat currencies such as USD/EUR/GBP/JPY/CNH. The minimum deposits and withdrawals is a limit of 10,000 for USD/EUR/GBP, 1,000,000 for JPY, and 75,000 for CNH.
Also note that if you do not have the funds available on your account, then the option to withdraw will not be available for selection.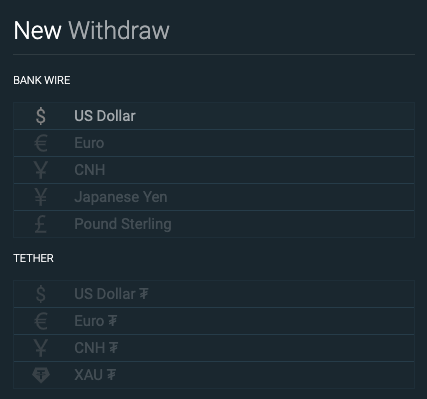 Step 3: Request a Withdrawal
Next you will be directed to a page to enter your wire information, including the amount you wish to withdraw and the wallet you will be withdrawing from.
You can check "Express wire" at the bottom for an Express bank wire withdrawal that is sent out from Bitfinex within 1 business day and incurs a 1% processing fee. You can learn more about fees on the Fees page.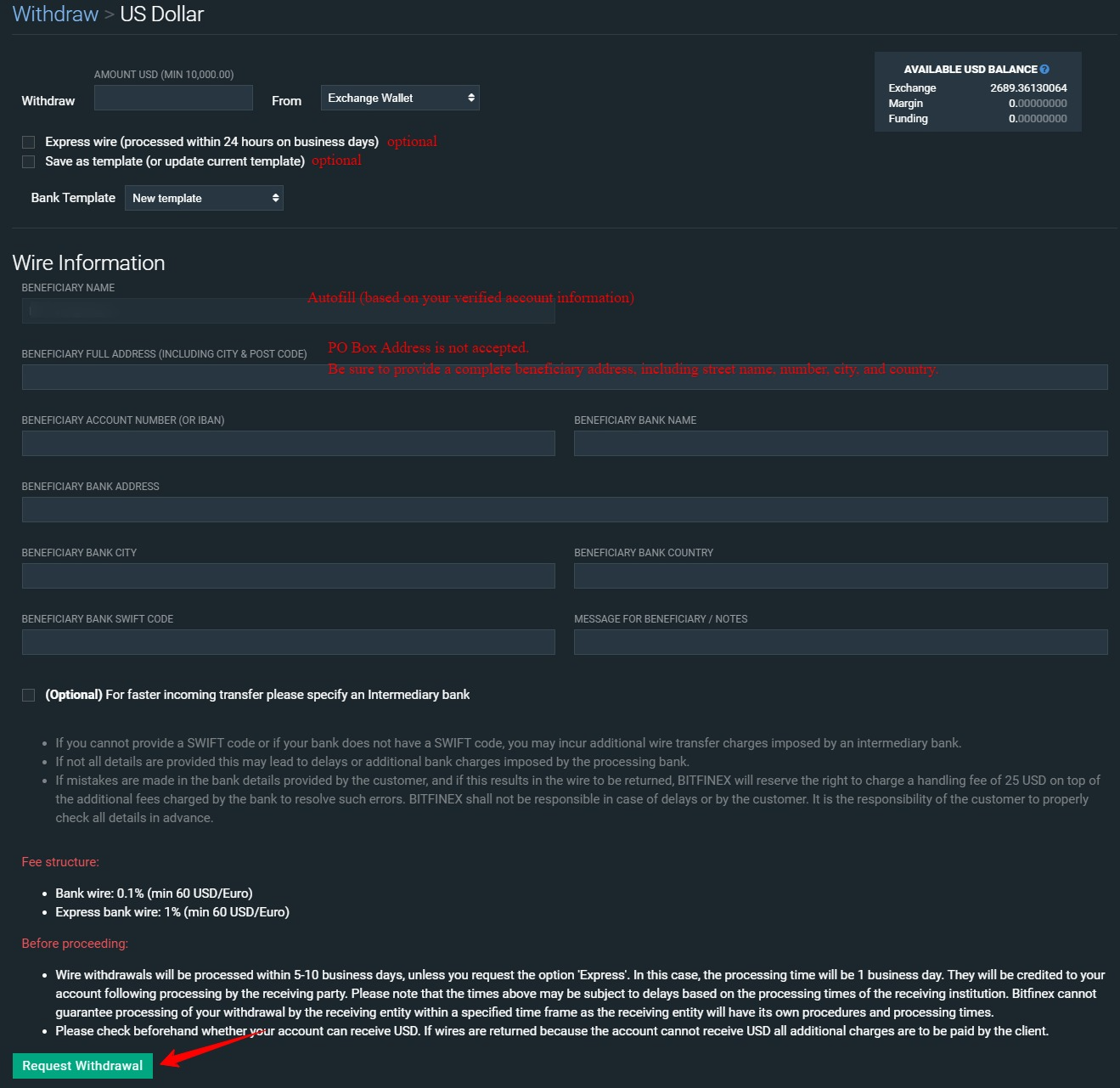 Also, you will be asked to include details of the bank you are withdrawing to. Note that the bank account(s) you plan to use should be the one(s) used for verification. If it is the new bank account, please upload the recent bank statement to the Verification Page> Manage Documents in advance.
You will also be provided with the optional choice of adding an intermediary bank. If your bank requires the designated intermediary bank to receive the wire, please fill in the intermediary bank information.
Take special note of the reminders when entering the information:
If not all details are provided this may lead to delays or additional bank charges imposed by the processing bank.
If mistakes are made in the bank details provided by the customer, and if this results in the wire to be returned, BITFINEX will reserve the right to charge a handling fee of 25 USD on top of the additional fees charged by the bank to resolve such errors. BITFINEX shall not be responsible in case of delays or by the customer. It is the responsibility of the customer to properly check all details in advance.
Please check beforehand whether your account can receive the transferred currency. If wires are returned because the account does not support the payment in your withdrawal currency, all additional charges are to be paid by the client.
When will the funds arrive in my account?
Fiat withdrawal processing times depends on if you selected "Express" or if it is a regular bank wire:
A Regular bank wire withdrawal is sent out from Bitfinex within 5-10 business days and credited to your account following processing by the receiving party.
An Express bank wire withdrawal is sent out from Bitfinex within 1 business day and incurs a 1% processing fee.
Please note that the times above may be subject to delays based on the processing times of the receiving institution. Bitfinex cannot guarantee processing of your withdrawal by the receiving entity within a specified time frame as the receiving entity will have its own procedures and processing times.
Why are there delays in fiat withdrawals?
The completion of bank wires depends on our own internal risk processes, our payment processor, corresponding banks and your personal bank. Delays, often out of Bitfinex's control, can occur at each stage of the transaction.
Even though we cannot give an exact timeframe for when a wire withdrawal will be completed, the approximate time it takes to withdraw fiat currencies from our platform is 7 business days. However, it is not unusual for transactions to take up to 15 business days in order to comply with proper AML/KYC procedures.
If you have issues regarding your wire withdrawal, please contact customer support.