A Bank Wire Deposit is the transfer of funds from a bank account registered in your name to your Bitfinex account through wire transfer.

Note: Bitfinex supports fiat currency deposits of US Dollar (USD), Euro (EUR), Pound sterling (GBP), Japanese Yen (JPY) and Chinese Yuan (CNH).

Important: If you intend to conduct your Euro wire transfer using the third-party service provider OpenPayd, please see the knowledgebase article for additional information.

How to make a fiat deposit to my Bitfinex account
1. To begin, make sure that your account is at a Full Verification level.
If you are not yet verified at the right level, you can begin or upgrade your verification here.

2. Now, go to the Deposit page and select the currency you wish to deposit under Bank Wire on the left side of the menu bar.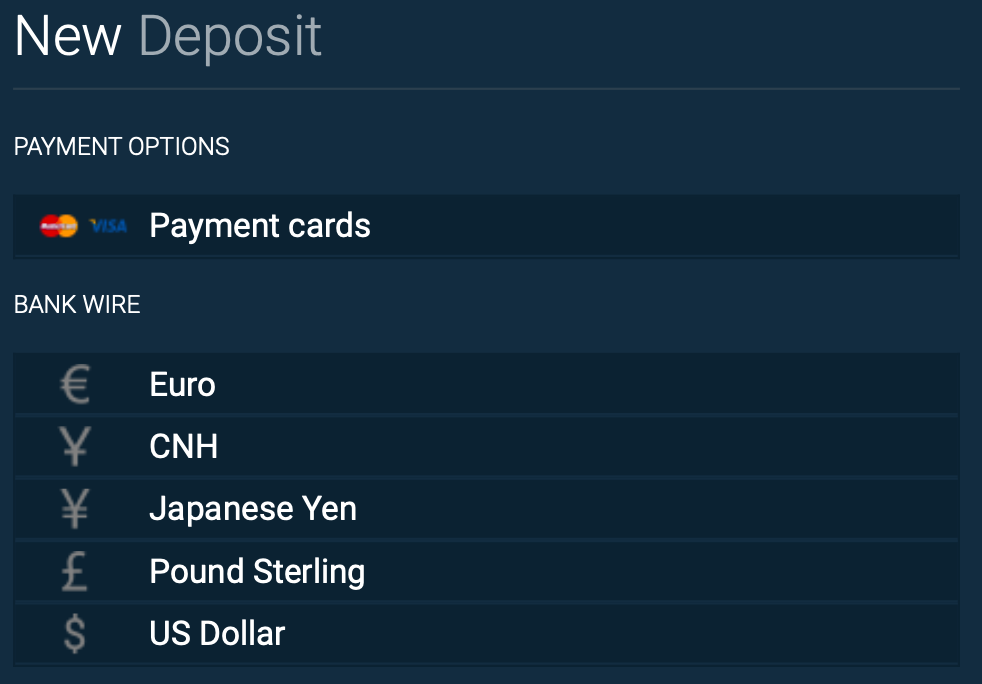 What are the minimum fiat deposits at Bitfinex
10,000 for USD/EUR/GBP;
1,000,000 for JPY;
75,000 for CNH.
Note: When using the third-party service provider OpenPayd via SEPA for your Euro transfer, there is no minimum or maximum deposit amount. There is, however, a €25 minimum withdrawal amount while using this service.
3. Once you have selected the fiat currency, you will then need to create a deposit notification. Through this deposit notification, you will be able to specify the exact amount and the wallet to which you wish to deposit.

Note: If you deposit a different currency than the one you specified in your deposit notification, the bank will automatically convert it to the currency of the wire details you had input initially.
Bitfinex will not be responsible for the exchange rate conversion applied and will credit the amount provided by the bank after conversion.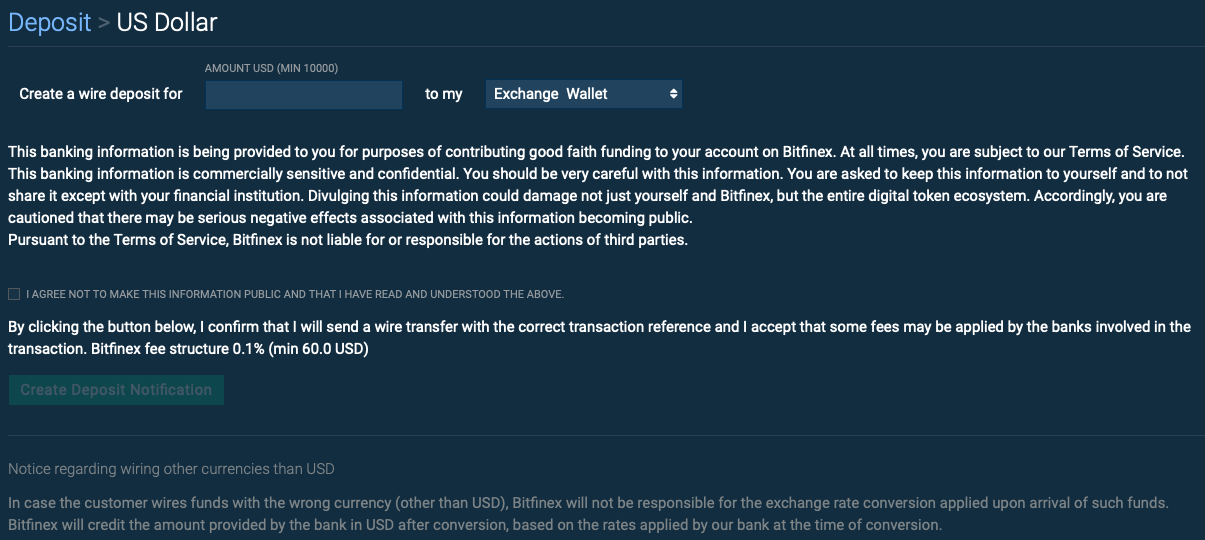 4. After submitting the deposit notification successfully, your request will be reviewed within 48 hours. After your application has been processed, you will receive an email with information such as the bank account details to which you should submit your deposit.

5. Congratulations! You can now deposit funds through the bank wire information provided to you.

Note: The fee for creating a fiat deposit is 0.1%, with a minimum of 60 USD/EUR charged. For more information, please visit our Fees page.
This fee will be directly deducted from the final amount credited to your account, and you can view the details on your Report page under Movements.
Bank Wire Deposit — Frequently Asked Questions (FAQ)
— When will my fiat deposit arrive in my Bitfinex account?
The processing time on wire deposits depends on how fast your local bank is able to wire funds to our bank. In our experience, five business days is common to process international wires. Bitfinex credits deposits on the same day the funds reach our bank.

— It has been too long; why are the funds not in my account yet?
A delay may happen because of processing at an intermediary bank, or the bank you requested the transaction through has not sent the payment yet.
If a delay in the deposit has occurred, contact Bitfinex Support and provide:
Deposit ID;
A copy of the SWIFT MT103 message was provided by the local bank that executed the transfer.
Note: If your bank is unable to provide the SWIFT MT103 message, please ask for Proof of Payment.

If you have any questions about your bank wire deposit, please contact Bitfinex Support for further assistance.