Your withdrawal address is where you send your funds when making a withdrawal.
Whitelisting a withdrawal address is the process of limiting the addresses that you can make withdrawals to. You can find this security setting under Account > Security >  Withdrawal Address Whitelist.

While whitelisting withdrawals to predefined addresses or disabling withdrawals for currencies is a good security improvement in itself, it will only be a true security improvement if you lock all addresses for all currencies.
For example, if you whitelist your Bitcoin address but do not disable your other addresses, such as Litecoin, and if your account was compromised by an attacker, they could simply withdraw your funds via Litecoin. 
Important: Therefore, if you wish to increase the level of security of your account by whitelisting addresses, it will only help if all addresses are locked.
Note: You can use the Toggle button to turn on or off all withdrawal addresses quickly.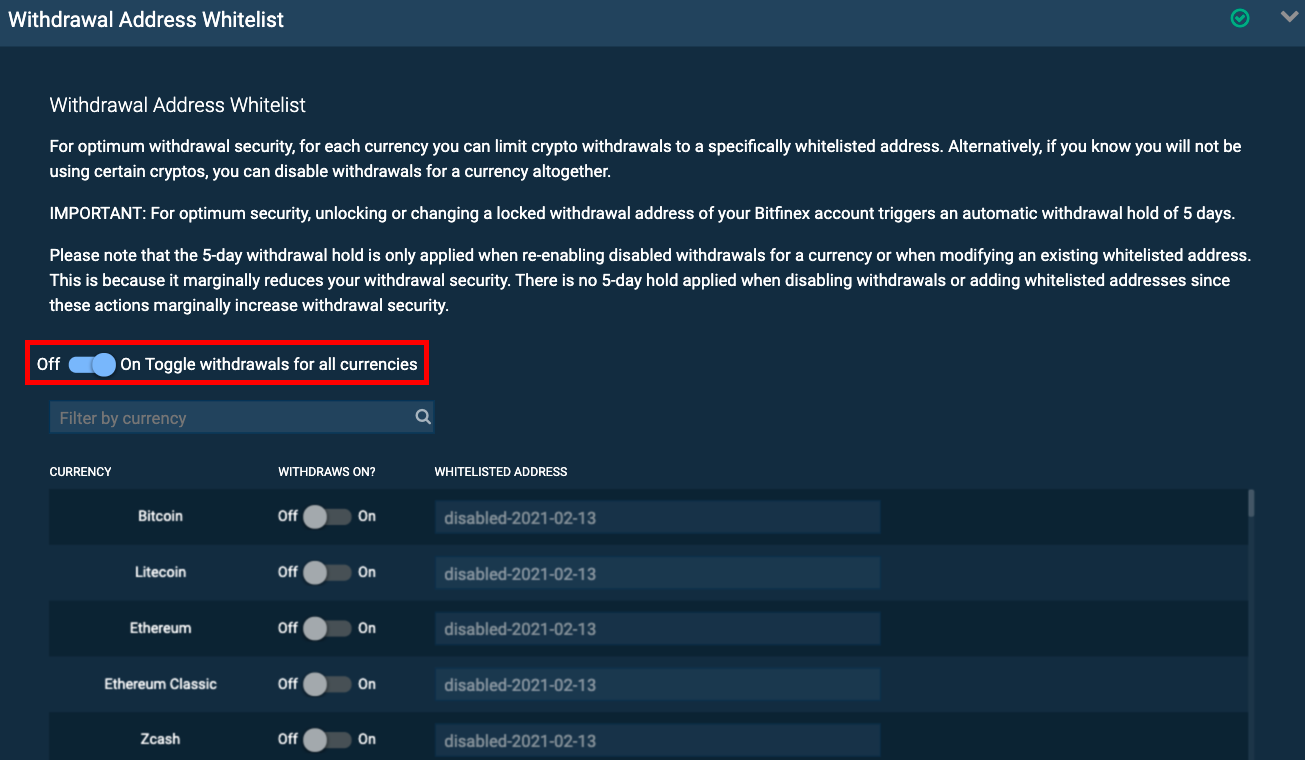 Withdrawal addresses and withdrawal holds — Frequently Asked Questions (FAQ)
— Why do I have a withdrawal hold after changing the withdrawal address settings?
Modifying an existing address whitelist for one or more currencies or (re-) enabling disabled currencies for your Bitfinex account will trigger an automatic withdrawal hold of five days for all currencies.
During this period, no withdrawals will be processed. This is because these actions reduce your withdrawal security.
Note: No five-day hold is applied when disabling currencies or adding whitelisted addresses to an enabled and non-whitelisted currency since these actions increase withdrawal security.
— How does a withdrawal hold protect my account?
The withdrawal hold is an essential part of why the withdrawal address whitelist helps improve security. If an account is compromised and the attackers want to withdraw to an address under their control, they will first need to update the withdrawal address whitelist. Because this five-day withdrawal hold will be triggered, they will not be able to quickly transfer funds out to a new address.
During these five days, the account owner will have a chance to notice the breach of security and will be able to freeze their account, thereby protecting their funds.
Important: If you need to make a withdrawal to a new address, keep this in mind and be aware you will not be able to do so for five days after changing the locked addresses.
If you have any inquiries, please feel free to contact Bitfinex Support. We are happy to help!