How do I make a fiat deposit?

Step 1: Verify Your Bitfinex Account
To begin, make sure that your account is fully verified. You will find your account information on your Verification page.
If you are not fully verified, you can learn more about verification here.

Step 2: Select Bank Wire Deposit
Next, go to the Deposit page and select the currency you wish to deposit under "BANK WIRE". Note that Bitfinex supports fiat currencies such as USD/EUR/GBP/JPY/CNH. The minimum deposits and withdrawals is a limit of 10,000 for USD/EUR/GBP, 1,000,000 for JPY and 75,000 for CNH.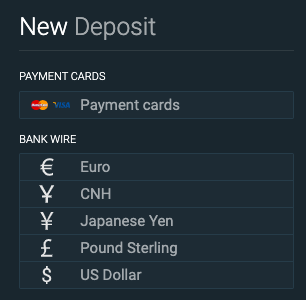 Step 3: Create a Deposit Notification
Once you have selected a currency, you will then need to create a deposit notification. Through this deposit request, you will be able to specify the exact amount and the wallet to which you wish to deposit. Please also take special note that if you deposit a different currency than the one you specified in your deposit notification, the bank will automatically convert it to the currency of the wire details you were using.
Bitfinex will not be responsible for the exchange rate conversion applied and will credit the amount provided by the bank after conversion.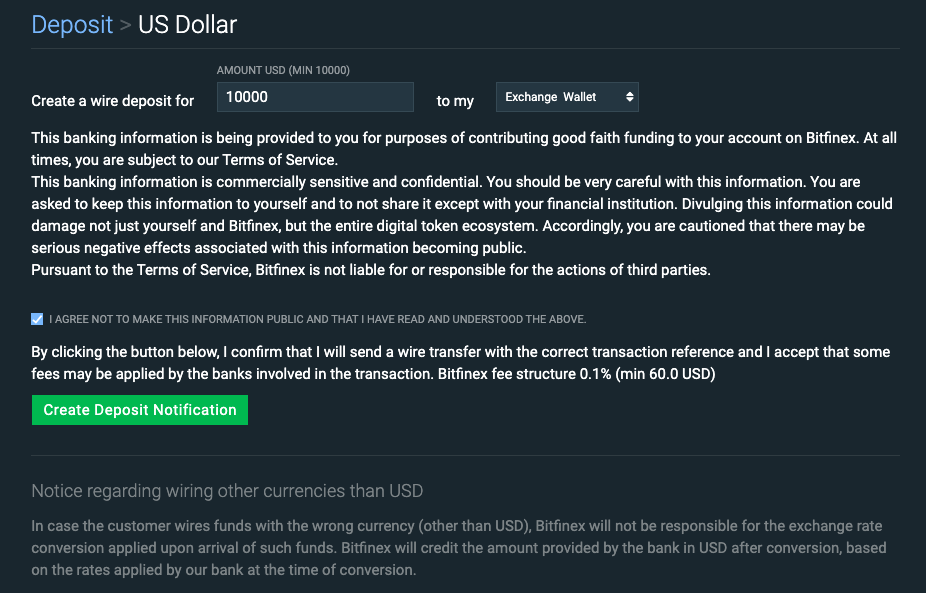 Step 4: Deposit Request Review
After you have successfully created the deposit notification, your request will be reviewed within 48 hours.
Once reviewed you will then receive an email which will include, among other things, the bank account details to which you should send your deposit to.
Step 5: Deposit Funds
Deposit your funds via the bank wire information provided. Note that the fees for creating a fiat deposit is 0.100% with a minimum of 60 USD/Euro charged, for more information please visit our fees page. The fee will be directly deducted from the final amount credited to your account and you can view the details on your Reports page under Movements.
When will the funds arrive in my Bitfinex account?
The processing time on wire deposits depends on how fast your local bank is able to wire funds to our bank. In our experience, 5 business days is common to process international wires.
Bitfinex credits deposits on the same day the funds reach our bank.
It has been too long, why are the funds not in my account yet?
A delay may happen because of processing at an intermediary bank, or the bank you requested the transaction through has not sent the payment yet.
If a delay in the deposit has occurred, contact customer support with the Deposit ID and a copy of the SWIFT MT103 message provided by the local bank that executed the transfer.
If your bank is unable to provide the SWIFT MT103 message, please ask for the Proof of Payment.