What is Two-Factor Authentication (2FA)
Authentication is the method of verifying the identity of a user, process, or device, which is a requirement to allow access.
Google Authenticator, which we use at Bitfinex, adds a second level of security between an attacker and withdrawal confirmations, password changes, API key creation, and logins by using a Time-based One-time Password Algorithm (TOTP) and HMAC-based One-time Password Algorithm (HOTP) for authenticating users.
How to reset a Google Authenticator 2FA
If you lost access to your Google Two-Factor Authenticator, there are two ways how to reset it depending on your current equity:
If your account's total equity is above 10,000 USD in fiat or cryptocurrency, please contact Bitfinex Support directly. To begin, select the Account Access section.

If your account's total equity is below 10,000 USD in fiat or cryptocurrency, your account qualifies for a 2FA self-reset on https://setting.bitfinex.com/reset-2fa.
Note: After email confirmation, your 2FA will be reset, and your account will be put on temporary withdrawal hold. The duration of the withdrawal hold will be between 5 and 15 days, depending on your account equity.
To start the reset process, make sure to complete all the required fields:
Enter Username or Email;
Enter Password;
Enter Captcha (if it is present);
Google Auth Token is selected;
Press the Submit button.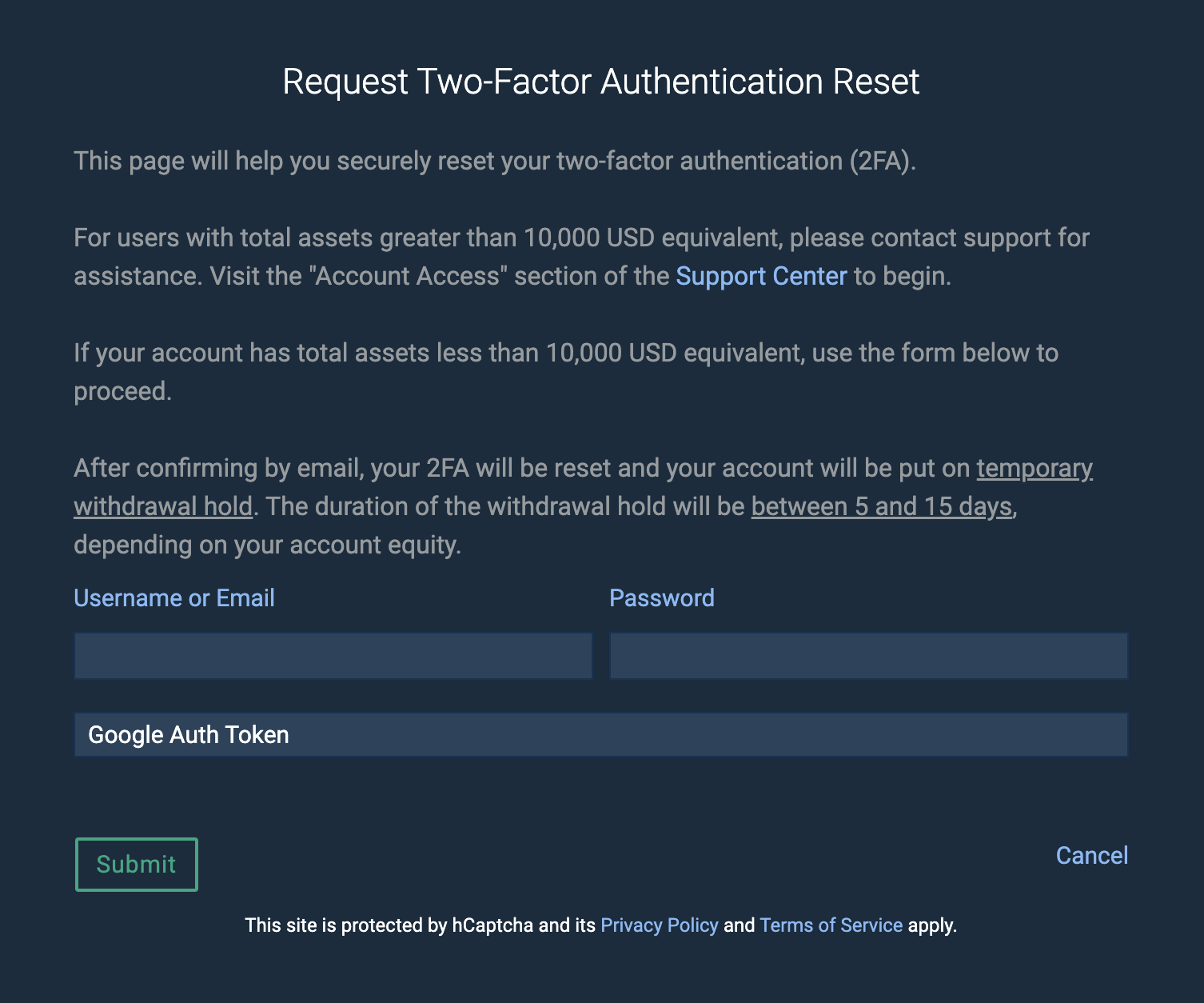 Important: You will need to confirm the reset request via email before you can complete this process.
Congratulations! Now, your 2FA is reset! If you have any questions, please feel free to contact Bitfinex Support. We will be happy to help!