Bitfinex is a digital asset trading platform offering state-of-the-art services for digital currency traders and global liquidity providers.
If you are new to Bitfinex, this article can act as an introductory guide to the various features and functions of the platform.

Here you can find guides to the following topics:

Core features at Bitfinex:
Exchange Trading at Bitfinex
Exchange Trading entails trading without the use of leverage. At the heart of Bitfinex are central limit order books for the spot trade of digital tokens.
For additional information, see our guide to How to trade on Bitfinex.
Margin Trading at Bitfinex
Bitfinex enables qualified users to trade with up to 10x leverage and receive financing through its Margin Funding and peer-to-peer financing features.
You can manually input a funding order when initiating a margin position to acquire the desired amount of funds at the rate and duration of your choice. Or you can also open a margin trading position, and Bitfinex will automatically link it with peer-to-peer funding at the current market rate.
For additional information, see our guide What is Margin Trading.

Margin Funding at Bitfinex
The Peer-to-Peer Funding Market allows users to earn interest on their digital assets by lending their funds to other users who want to trade with leverage.
Margin Funding allows you to earn interest on your capital while avoiding the risks of trading. It's the investment approach for you if you desire a low-risk investment strategy.
You can read our article What is Margin Funding for more information.

Over the Counter (OTC) Market at Bitfinex
Bitfinex provides a private Over the Counter (OTC) Market for traders looking to conduct large deals directly with a counterparty without using public order books.
OTC Market will allow you to access significant amounts of liquidity without affecting the exchange market price.
Visit the OTC Market page for further information.

Derivatives Trading at Bitfinex
Bitfinex customers with Intermediate Verification level and above can use the Derivatives Trading feature provided by iFinex Financial Technologies Limited.
The maximum leverage for derivatives trading is 100x. The leverage will determine the amount of allocated collateral.
For additional information, visit Derivatives Trading on Bitfinex.

Paper Trading
The Paper Trading tool allows you to test and experiment in a simulated market. Since the tokens are for testing, no actual deposits are necessary.
Note: As the tokens have no value, you can't withdraw them either.
For additional information, please see our guide on Paper Trading at Bitfinex — test, learn and simulate trading strategies

How to begin with a new Bitfinex account
Upgrade your security settings
The first thing you should do after creating your account is to optimise your security settings.
Bitfinex offers an advanced set of security settings that you can use to strengthen the security of your account.
As a start, we require all Bitfinex users to create a strong, unique password for their account and combine it with Google Two-factor Authentication (2FA).
Important: You can write down your 2FA key displayed during the setup procedure and save it offline or in a secure location. A failure to do so may result in account lockouts lasting many days in the worst-case situation.
In addition, consider the following helpful tips for securing your account and keeping your funds safe:
Enable the Two-Factor Authentication (2FA);
Enable the measure that locks withdrawals when a new IP address is used;
Setup a withdrawal confirmation phrase;
Lock or disable withdrawal addresses for all currencies;
Disable Keep Session Alive;
Limit access to your account based on your IP address;
Enable PGP email encryption.
For additional tips, visit the Bitfinex Knowledge Base's Security section to learn more on how to keep your account safe.

Deposit funds
Now that you know your account is safe, you will need to deposit to get started trading on Bitfinex. You can fund your account with both:
Fiat currencies (USD, EUR, GBP, JPY, CNH);
Cryptocurrencies and stablecoins. (You can find all the coins supported by Bitfinex here.)

How to make a fiat currency deposit

Note: Your account must be at Full Verified level o deposit fiat currencies.

In addition, to deposit and withdrawal of fiat currencies, Full Verified level account holders benefit from a faster deposit and withdrawal of cryptocurrencies.
We've created a few guides to help you with the verification process:
Upon verification, you can easily create a deposit request through this How to make a Bank Wire Deposit to Bitfinex guide.
Note: Bear in mind that you can still deposit, trade, and withdraw cryptocurrencies tokens while you wait for the verification procedure to complete.
How to make a cryptocurrency deposit
As there isn't any additional information required, you can simply make a cryptocurrency deposit as soon as you create an account with Bitfinex. To make a cryptocurrencies deposit:

1. Firstly, make your way to the Deposit page and select the Cryptocurrency you are interested in.

2. Then, Generate an address of the wallet you want to fund.

3. To finalise, put that address in as the receiving address on the platform you're using to send your funds.
On Bitfinex, there are three wallets to choose to deposit to: Exchange, Margin and Funding.
Exchange Wallet is for buying & selling supported cryptocurrencies on the exchange.
Margin Wallet is used when trading on margin.
Funding Wallet is for providing financing for other margin traders.
Note: The Exchange Wallet is the most commonly used tool to buy and sell any supported currencies.

Transferring funds between the three wallets is quick and free, so don't worry if you're not sure which one you'll need. For further information, please follow these instructions.
We've also created a few guides to assist you with the deposit process:
Note: Please keep in mind that deposit times can vary greatly depending on network congestion and the gas price used to send the deposit. For more information on required deposits confirmation, click here.
Can I use a payment card to buy crypto
Payment cards, such as a credit card or a debit card, can be used to buy cryptocurrencies through third-service service providers on Bitfinex - OWNR, Mercuryo and Simplex. Read How to buy crypto with a payment card to learn more.

Accepted payment cards include:

MasterCard
Visa
UnionPay.
How to make your first trade
You're now ready to trade for the first time. To make a trade, follow the steps below:

1. Firstly make sure your funds are in your Exchange wallet. To transfer funds to your Exchange wallet, follow the steps outlined here.

2. Next, find the Trading page and choose the pair you want to trade (for example, BTC/USD if you want to buy BTC with USD).

3. In the Order Form, select the Exchange tab.

4. Specify the Order Type, Order Size, and Price. A Market Order is a simple order since Bitfinex will immediately execute your order at the current market price.

5. Finally, click Exchange Buy or Exchange Sell to execute.

Using the BTC/USD example outlined above, pressing Exchange Buy would purchase BTC using your existing USD, whereas pressing Exchange Sell would sell your existing BTC for USD.
Your order should now be shown below the Chart in the Orders section. Your Exchange Wallet will reflect your funds, and the platform will move the executed (or cancelled) order to the Order History tab.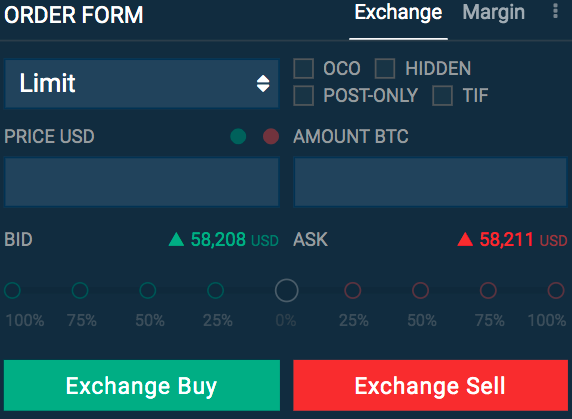 Note: The picture above shows an Order Form for the BTC/USD pair. At the very top, one can choose between Exchange (spot trading) or Margin (leverage trading).

The first box, Limit, shows the Order Type. A limit order allows you to specify the exact price and quantity you want (in contrast to a market order, which executes immediately against the best price available).
The second box, Price USD, is the price you wish to pay or receive per BTC token. In this case, the price is not the total price you want to pay but the cost per individual token.
The third box, Amount BTC, is the total amount of BTC you wish to buy or sell. To make a purchase, click Exchange Buy; to sell BTC, click Exchange Sell.
We've put together a few tools to help you get started:
Visit our Trading on Bitfinex Knowledge Base for more details on trading.
If you have any questions on trading, please contact Bitfinex Support for further assistance.

Margin Funding
The Bitfinex Margin Funding tool may be for you if you are not a trader and prefer safer investing.
You can earn interest on your holdings while avoiding the risks of active trading by using your Funding Wallet to provide funding to margin traders in any of the margin enabled currencies on Bitfinex.
You have the option of entering offers with your terms (desired return rate, duration, and amount). And when a margin trader accepts an offer, the trader uses these funds to buy or sell cryptocurrencies on margin (open a position). Then, when the trader completes their trade by closing the position, the cryptocurrencies are bought or sold back, and the funds, plus added interest, is returned to your wallet.
Margin Funding is a complex topic that can be learned quickly. Moreover, you may set your strategy to auto-renew, putting it on auto-pilot and earning you interest on interest.
Advanced users may also be interested in Lending Pro. This fully configurable solution leverages automated technology and advanced features to manage lending according to a user's specifications and market conditions.

Feel free to contact Bitfinex Support for questions on Margin Funding.

Margin Trading
Bitfinex also allows users to trade with up to 10x leverage, borrowing funding from the Peer-to-Peer Margin Funding platform to boost their trades.
You can enter orders to borrow the desired amount of funding at the desired rate and duration, or you can simply open a position, and Bitfinex will take out funding for you at the best available rates.
Margin Trading is a sophisticated, high-risk activity that traders must approach with caution.
We've put together a Margin Trading guide for those interested in learning more about this option. We strongly advise all new users to read through this guide before engaging in Margin Trading.
Here are also a few other articles to look into if you want to learn more about Margin Trading:
Withdrawals
You can withdraw funds to a personal wallet or bank account using the withdraw option.

How to make fiat currency withdrawal

To withdraw fiat currencies we support (USD, EUR, GBP, JPY, CNH), your account first needs to be at the Full Verified level.
After verifying your account, simply make your way to the Withdrawal page, and select the fiat currency you wish to withdraw.
Please take a moment to look through our guide on how to request a Bank Wire Withdrawal.
If you have any questions on how to make a withdrawal, please contact Bitfinex Support for assistance.

How to make a cryptocurrency withdrawal

1. Firstly make your way to the Withdrawal page.

2. Then, select the cryptocurrency.

3. Fill in an external address (where you wish to send the funds), the amount you want to send and the wallet you want to send from.

4. Complete it by putting that address in as the receiving address on the platform you're using to send your funds.

5. Agree to the terms auto-withdrawal processing terms; click Request Withdrawal. We've put together a comprehensive guide about making withdrawals that should help you along the way:
If you want any additional assistance with withdrawals, please contact Bitfinex Support.
Reports
You can go to the Reports section to get a detailed overview of your account activity history like:
Trades,
Deposits/withdrawals,
Balances,
Funding, etc.
You can download Reports for the date range you choose:
1. Make your way to Reports.

2. Select the type of report you would like to download.

3. Select the appropriate Date Range from the top panel.

4. Press Confirm for a quick view of the report.

5. Press Export to download the report.
For further information on how to view or download Bitfinex Reports, click on the links below:
In addition, the Reporting Application has no additional fees, open-source download that promotes community cooperation. Users can also use it to generate and view tax reports.

You are now ready to explore the platform! Please contact our Bitfinex Support if you have any questions or require any assistance.